Our readers write from Barkersfield
(Thanks to Bonnie Vaughn, ESL teacher and Easy English Times Editorial Board member for sending in many wonderful stories. Some were published in January; more will be printed in February. This story was selected as "Student Writing of the Month." Other stories not published in January can be read under January "Bonus Student Writing.")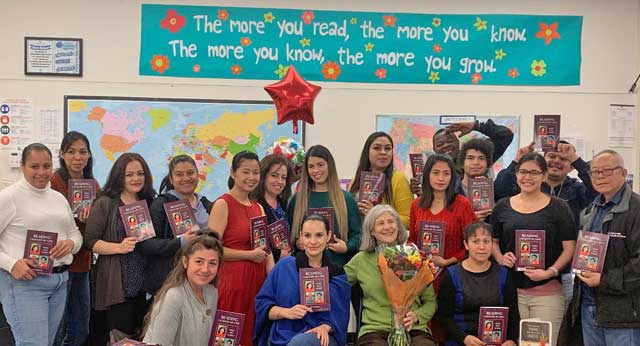 I am happy when I'm writing poetry
by Hanady Ismael (Yemen), Bakersfield Adult School, California
I am happy when I am writing poetry because it is a way to express myself, to figure out my passion and convey my thoughts to others. When I am writing poetry I feel active because I can imagine and recognize my spiritual thinking, and keep my soul sailing in the deep meaning of the words.
I like having the ability to write about the ordinary in a way that has never been stated before. It is a good feeling to be a painter in words. I like to exaggerate to achieve the deep meaning of my thoughts by using images, metaphors and similes. I also use meaningful words to show my unique perspective on what I can do and what I want to say. Poetry gives me an opportunity to communicate my thoughts eloquently and publish them on social media. Poetry helps me to see the difference of the beautiful details in writing that give my mind the freedom to go anywhere in the world. Also, poetry helps me to generate feelings in the readers and they encourage me to become more creative.
Surely writing poetry changes me, inspires me, reminds me to keep going, to keep trying what I am doing, and not to compare myself to the best, but to be the best. And that makes me happy.
Our readers write from Chicago
(Editor's note: Thanks to Allison Lewis, Easy English Times Editorial Board member for sending in stories!)

Celebrating Chinese New Year
by the students in Allison Lewis' ESL class at Pui Tak Center in Chicago
Chinese New Year is the biggest holiday in China. It will be on January 25th this year. It is always on the first day of the first month of the Lunar calendar. So every year, it falls on a different day on the Gregorian calendar (the calendar used in the U.S. and many other countries).
In traditional Chinese culture, there are 12 zodiac animals. A different animal represents each year. Each animal has different characteristics-for example, people who were born in the year of the monkey are active or clever, or people born in the year of the horse like being outdoors. The year 2020 is the year of the rat. That means anyone born in the year of the rat needs to be careful because they could have either good or bad luck this year. Some believe that people born in the year of the rat need to wear new red underwear on New Year's Day to bring them good luck.
Before the New Year, we clean and decorate the house. We put up red decorations and a sign that has the Chinese character for happiness. Some people hang it upside down to show that they hope the bad things in their life will go away and good things will come. We also hang couplets (short poems) on red paper on the main door of the house. The couplets talk about happiness, good fortune, and good wishes for the new year.
On New Year's Eve, many people wash their hair, which signifies that they are washing away their worries about the upcoming year. That night, the whole family gets together for a family reunion dinner. It's a big feast like Thanksgiving dinner in America. We eat chicken, fish, pork, goose, dumplings, noodles, and sticky rice cake. The foods vary depending on the area of China. In northern China, many people eat pig and chicken feet. In most parts of China, people cook fish. The word for "fish" in Chinese is the same sound as the word "left," so eating fish means you will have more money and food left over this year. In southern China, people buy tangerines and put them around the house as decorations. The Chinese word for "tangerine" (the sound ji) is the same sound as the word for "lucky."
After dinner, we watch the New Year's program on CCTV, the Chinese television station. Many people send messages to their friends and relatives to say, "Happy New Year!" and "I hope you have a healthy body this year!" and "I hope you will get rich!"
On New Year's Day, parents give their children red envelopes with money inside. People go to see the traditional dragon dance and lion dance. In southern China, people go to a Flower Fair or Lantern Fair, where they can see lots of flowers and lanterns.
Many people visit their friends' or relatives' homes and give each other gifts, like clothes or fruit.
What year were you born?
In our January issue we had a story on Chinese New Year (see above). This year 2020 is the Year of the Rat. What is your "animal"?
You are a "Rat Chinese Zodiac animal" if you are born in one of these years: 1936, 1948, 1960, 1972, 1984, 1996, 2008, 2020
Here are the other animals and their years:
Ox: born in 1937, 1949, 1961, 1973, 1985, 1997, 2009
Tiger: born in 1938, 1950, 1962, 1974, 1986, 1998, 2010
Rabbit: born in 1939, 1951, 1963, 1975, 1987, 1999, 2011
Dragon: born in 1940, 1952, 1964, 1976, 1988, 2000, 2012
Snake: born in 1941, 1953, 1965, 1977, 1989, 2001, 2013
Horse: born in 1942, 1954,1966, 1978, 1990, 2002, 2014
Goat: born in 1943, 1955, 1967, 1979, 1991, 2003, 2015
Monkey: born in 1944, 1956, 1968, 1980, 1992, 2004, 2016
Rooster: born in 1945, 1957, 1969, 1981, 1993, 2005, 2017
Dog: born in 1946, 1958, 1970, 1982, 1994, 2006, 2018
Pig: born in 1935, 1947, 1959, 1971, 1983, 1995, 2007, 2019