Our readers write from Sonoma County, California
(Editor's note: Thank you to Pat Hanson for sending us the essay below. Pat and Natalia work together through the Adult Literacy program at the Sonoma County Library in Santa Rosa, Calif.)
Going to the opera
by Natalia (Natasha) Scherbakova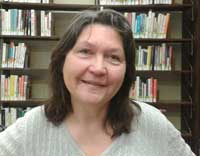 We went to the opera! It was so great! I didn't think I could ever go there. Thank you, Patricia!
The name of the opera is La Traviata. Patricia drove to my house and we went to San Francisco. We talked about different simple things throughout our trip. I also looked at the scenery along the freeway. I love the nature of California and I was able to see beautiful views from the car. We talked and laughed; the time ran so quickly. And finally, we saw a beautiful view of the Golden Gate Bridge in front of us.
We drove through the city to get to the opera. We left the car in a parking garage and went to an old big building. It was the Opera House. We went inside and then into the theater hall. It was great. The curtain has the color of expensive gold.
We went to find our seats. They were a "little" high in the balcony. For the first time in my life I regretted that I'm not rich and can't sit like Vivian from the movie "Pretty Woman." The stage was so far from us!
But the music began to play and I forgot about everything. The music was magic. And what we saw on the stage was magic too. There was a salon of a famous courtesan of Paris. Her name was Violetta. Ladies were in beautiful dresses and men were in black tailcoats. Everybody sang.
It was like a fairy tale. I heard such beautiful music, and such beautiful voices. And, I was thinking at that moment: How do these actresses and actors go over from the play into modern life? They sit in their cars and go home on the streets. It must be an amazing and strange feeling. I wondered: How could I feel this? But! I'm here!
It's love on the stage now. The fallen woman falls in love with the young man, Alfredo. He loves Violetta tenderly and asks to change her life. Violetta decides to do this. Is it possible? No! Because the father of the young man is ashamed of his son's relationship with this woman. He asks her to leave his son and she does. Violetta and Alfredo are unhappy and suffer. But love wins, of course. They are together now, but it's so late. Violetta dies from TB. That was a tragic ending to this story. It was so sad. The opera was over.
As we went home, we didn't talk much. The beautiful music sounded in our ears and souls. And, I think we both regretted that we sat so far and couldn't be on the stage with them. Patricia would look great in this dress! And, I would too.
VOCABULARY HELP
ashamed - embarrassed or guilty because of one's actions, characteristics, or associations
courtesan - a prostitute, especially one with wealthy or upper-class clients
regretted - felt sad or disappointed over
stage - a raised floor or platform, typically in a theater, on which actors, entertainers, or speakers perform
tailcoats - A tailcoat is a man's formal coat with a long "skirt" divided at the back into tails and cut away in front.
TB - tuberculosis