| January | February | March | April | May | June | July | August/September | October |
| November/December |
Our readers write from Northern California
(Editor's note: The writers are students in Lorraine Ruston's Napa Valley College class, Calistoga site.)
My story
by Jaquelyn Sibbu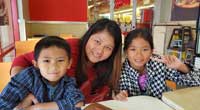 My name is Jaquelyn Sibbu. I was born in the Philippines. I came to America on December 22, 2014. I felt uncomfortable leaving home but my husband was in America. He told us that we were coming. My children and I had our visas. We were so scared and didn't know what to do. Plus we didn't speak English. But we made it to our plane just in time. I felt sad and tired at the same time. Then I saw my husband and I hugged him. We drove to Orosi, California, the first place we lived in the U.S.A. It was an eight hour drive.
A couple of months later I moved to Calistoga. It is an amazing place. I met a lot of people. We live in the yellow apartments and we are very happy.
A Japanese cultural holiday
by Ai Kimura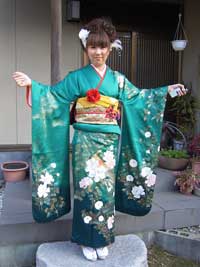 In Japan, when we are 20 years old we have a ceremony of congratulations on the second Monday of January. It's a holiday. Girls wear a Japanese traditional dress called a "kimono." I wore a green one. Boys wear a suit or Japanese traditional dress called "hakama." I had an appointment at 4 a.m. at a hair salon to style my hair and to get dressed in my kimono. I wanted to go there a little later because the ceremony starts at 10 a.m. But everyone had appointments so I didn't have any choice. That was the first time for me to wear a kimono and it was uncomfortable. It was very difficult to go to the bathroom, to eat and to do everything because I was squeezed into my outfit.
All the people who are 20 years old in the city go to the hall to have the anniversary ceremony. One of us read a thank you letter to the parents. The parents of children who had passed away before age 20 read a letter to us as well. It made us be thankful to our parents for being alive.
After the ceremony, we drank sake and a lot of alcohol. We can drink after age 20 in Japan. I was 19 years old though! (My birthday is at the end of January.)