In a hyperpartisan era, a Napa newspaper brings unbiased news to readers learning English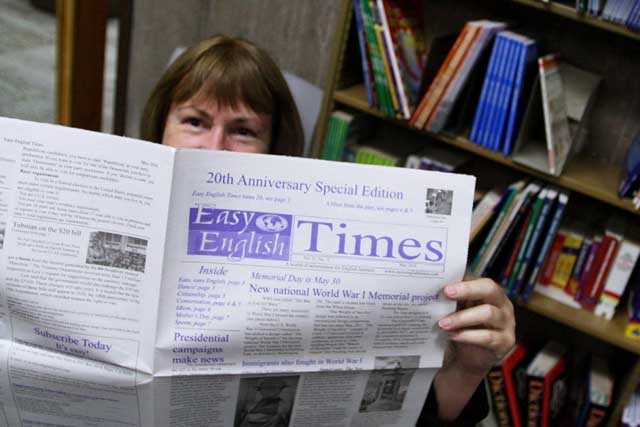 Publisher Betty Malmgren poses with a copy of the 20th anniversary edition of the Easy English Times at the Napa Library in 2016.
Register file photo
Don't let the name fool you. It's no cake walk putting out the Easy English Times.
Four thousand copies of the Napa Valley-based adult literacy and English-as-a-Second-Language newspaper are printed at a Healdsburg press and sent to readers across 20 states, 10 times per year, said publisher and co-founder Betty Malmgren.
The eight-page paper, written in straight-forward English, features personal essays and other content from readers, plus articles related to current national events, citizenship matters, sports, health, holidays and American traditions that are mostly written by Malmgren and Editor Lorraine Ruston.
"It kind of reinforces the pleasure in reading and also feeling like part of your community," said Robin Rafael, who oversees literacy services for the Napa County Library. "It also gives you hope that you can read and you can participate in civil life."
The publication is a hit with the library's literacy students because the reading isn't as dry or heavy as a textbook. Readers can keep up with current events in a format that they understand. The opportunity for student-submitted essays is a good motivator for students to practice writing, she said.
"Just because you're reading at first-, second- or third-grade level, it doesn't stop you from participating," she said.
There's a great need for ESL print publications, since ESL programs are often so underfunded, Malmgren said. Students may not have access to computer labs.
But it's hard to produce impartial content that caters to such a varied group of readers of different ages, states, countries and backgrounds. Customers range from school teachers to faith-based programs. Malmgren and Ruston try to consider how the paper would be received by all and try to maintain neutrality and balance.
An article on a U.S.-Mexico border fence separating Ciudad Juárez, Mexico from Sunland Park, New Mexico, for example, did not devolve into partisan commentary on the wall itself. It featured the story of two California professors who created a see-saw for people on both sides of the border to enjoy.
"The children laughed and played together, despite the wall separating them," author Allison Lewis, a Chicago ESL teacher wrote. "Some adults played on the see-saws too."
Finding relevant, national content for articles has become an increasingly difficult task in an era where the 24-hour news cycle moves much faster than the paper's publishing schedule. Though most readers are still based in California, gone are the days when the paper's content featured California-specific topics, such as missions, Malmgren said. Easy English Times has grown too big for that now.
Malmgren fondly recalls attending a conference where a teacher from Omaha approached her booth and shared how much it meant to see her students' stories published in print. Some students use clips for scholarship applications, she said.
The Times celebrated its 20-year anniversary three years ago. The paper, which charges $40 for a year's subscriptions, has changed a lot since its early days, when it was founded on the kitchen table of Sharon Elwell, who taught Malmgren's son.
The two first connected after Malmgren volunteered to create a classroom newsletter for Elwell. Elwell complained to Malmgren, a former reporter, about her outdated ESL curriculum. So the Easy English Times was born.
"Journalism is my passion," Malmgren said. "I've been doing journalism since Napa High School."
The goal is to get ESL readers familiar with newspapers and graduate to become consumers of news in their communities, Malmgren said.
At first, the paper was distributed at markets in Napa, Sonoma and Solano counties. The Times really started to gain exposure after she attended teacher conferences, Malmgren said. Word started to get around.
These days it takes a while to stuff the envelopes and fulfill the orders of customers across the county. Putting the paper together is Malmgren's favorite part of the process - she's now sent more content than she can fit in the paper, she said.
It's a good problem to have in the print business. Even so, Malmgren said she is always looking for stories and snapping photos. She's carried a reporter's notebook in her purse for decades.
But for Malmgren, nothing tops the touching, raw, heart-warming stories that students send in about their everyday lives, home countries and journeys to America. As much as she loves reporting, she said publishing the stories of her readers is what she loves the most.